Tri-ring Speed Reducers
Tri-ring speed reducers mainly consists of a low-speed shaft is mounted external gear, two were 120º having three mutually eccentric journal of the crankshaft and the eccentric speed shaft i.e. three-piece annular plate having internal teeth structure composition, and each axis parallel to each other (see Figure 1, b).

Figure 3 shows a pair of drive transmission mechanism sketch tri-ring plate with two simply supported beam arranged eccentric crank ring plate supported on the same plane by the Central Board, constitute an eccentric crank four-bar linkage, in the teeth ring set ring board, ring plate equivalent to connecting rod, an eccentric crank four-bar linkage as the input shaft bearing and drive ring plate (link), the geometric center of the ring plate making the rounds around the low speed shaft axis translation, ring plate ring to achieve a planetary motion, by a small difference in the meshing teeth, the torque is transmitted to the output gear, output similar to the planetary gear mechanism that suits the output shaft of the sun gear at low speed shaft mechanism, while the output shaft is also used by Jane supported beam structure. Tri-ring entire transmission chain drive mechanism is very short, compact structure, small teeth difference transmission through direct output torque, without attaching input and output mechanism, reliability is greatly enhanced. Less internal meshing teeth difference transmission with short teeth, avoiding interference, efficiency up to 0.91 to 0.98.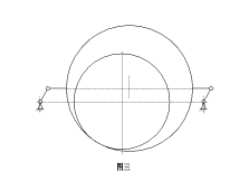 Tri-ring speed reducers shaft cantilever structure to a simply supported beam axis parallel shaft, realized by optimizing the structure of parallel shaft drive shaft. Tri-ring transmission mechanism of its spokes sport belongs shaft gear train, with small teeth difference planetary transmission characteristics, and its input and output shaft parallel axis simply supported beam structure, but also has a parallel shaft transmission characteristics of cylindrical gears. Transmission using both the small teeth difference transmission principle also set cylindrical gear reducer, planetary reducer advantage in one, then use soft tooth structure, to obtain a large ratio, high torque has also become possible, which is the three-ring transmission structure is unique.
Due to the presence of a single four-bar linkage dead during the operation, that is, when the crank and the internally toothed ring plate centerline collinear, the transmission angle is zero, indefinite state agencies in motion, namely institutions suffered, unable to transfer power. Tri-ring speed reducers uses a three-phase double-crank mechanism tied to overcome, dead drive mechanism mounted side by side within the same three teeth tooth ring plate, during engagement with the output gear, which always was 120°,inner tooth ring plate equivalent to link four-bar linkage, and when one phase of the double crank mechanism movement to position, the other two phases of the double crank mechanism can overcome and power is transmitted. Three-phase parallel double crank mechanism can not only be overcome through a multi-phase parallel can also be overcome by a double crank dual input; Internally toothed ring plate three-phase parallel, phase 120 °, the output shaft by the axial force is zero, to solve the four-bar linkage axial balancing problems, while the three-phase parallel and dual input but also realized the power split. Small teeth difference tied the ring and three-phase, three ring plate making process in the engagement with the output gear teeth at the same time to enter the contact zone of the total number of meshing teeth up to 9 to 18 pairs, and the engagement of the radius of curvature of the tooth surface similar to the same normal direction, each pair tooth contact area is greatly increased, meshing contact stress than the parallel shaft gear reducer cylindrical outer gear dropped two orders of magnitude, which greatly improved the ring reducer carrying capacity and overload.